Overview
Moto Pro Training offers services for everyone! Whether you are nationally ranked pro, recreational racer, weekend warrior, or an enthusiast, we have a program to fit your needs. Our diverse program structure allows anyone of any economic level to benefit from our knowledge and experience. Our client base is nation wide and includes clients of all ages from children up to super seniors. Join the nationís best and fastest growing training company dedicated to the sport of motorcycling and atving!
Assessments
Evaluations include the following: a verbal assessment of the riders previous exercise history and activities, medical history including any current conditions, current nutritional practices, and personal goals.
A skin fold caliper assessment will be used to measure lean mass to body fat ratios. Values are one of the most accurate ways to measure physical change and positive/negative results from participating in the program. The values will also help determine the caloric needs of the individual racer. Circumference measurements are taken of the arm, leg, waist, and chest and are recorded.
The third step will be a physical evaluation that includes tests to determine the current condition of the riderís balance, flexibility, coordination, strength, power, and cardiovascular capacity. A postural assessment is also completed at this time. Any current/prior injury a person may have is addressed at this time and assessed as well by our staff Physical Therapist, Morgan Johnson.
A VO2 max test (maximum capacity to transport and utilize oxygen during incremental exercise) is performed to determine respiratory and cardiovascular development. This important test plays a major component for developing any strength and endurance program.
A nutritional assessment will help to determine if the athlete is providing the correct caloric needs to preserve and improve lean mass while depleting body fat as well as providing the correct amount of fuels to perform races, practice, and workouts.
After the completion of the evaluation, a program is developed for each individual based on his or her results and personal goals. Racers will be monitored on their progress and their programs will be changed accordingly.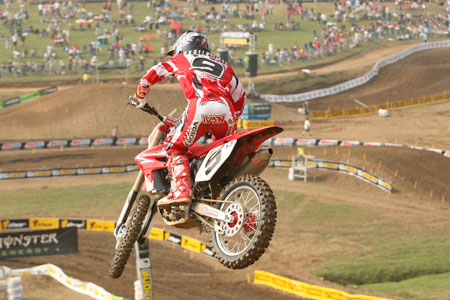 Moto Pro Training offers sponsorships and support programs!